Ready or not, the holiday season is here.  Take advantage by using holiday cards stay top of mind with your customers or send holiday greetings with special offers to attract new customer. This strategy is highly effective, but before you start, make sure you read these seven holiday card marketing tips.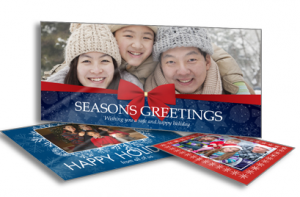 Be Clear and Concise.  Even when you're sending holiday postcards, you can use the reverse side to deliver a great message or offer.  If you are sending to both your customer list and to new prospects, consider altering the message slightly. Make it personal and heart-felt, with a note of thanks for allowing you the opportunity to serve them as customers.
Dual Purpose.  Are you having a holiday customer event?  Charitable program?  Offering a holiday special? 
Include that information on the card along with her holiday greeting.
Don't Sell.The holidays aren't the time for salesy messages.  The holidays are about connecting with people on a deeper level.  Keep it light and friendly.
Not Just Christmas.  Almost all businesses send Christmas cards.  Be different…remember there are several other holidays around this time. Thanksgiving, New Year's, Valentine's, Easter and beyond. There's always something to celebrate with your customers.
Have Fun.  People do business after they feel a connection.  Have some fun with pictures or opt for a
photo card rather than a more traditional card.
Be creative and show your company's personality.
Remember Everyone.  You know all those mailing lists you've been collecting throughout the year…remember everyone's important (and a potential customer!)
Don't Be Late.  Send your holiday cards out at LEAST two weeks in advance of the holiday every month — oh…and if you're a procrastinator…mail them first class as opposed to standard-class to ensure timely delivery…it's a difference of about 10 days or so.
Here's to a great holiday season ahead!  We're even going to make that a little easier on your budget!
From now until January 5th, send any holiday postcard, photo card, or calendar card and SAVE 15% off your order excluding postage!
Use these money saving promo codes to get your discount! 
HOL15S – standard size, mailed First-Class
HOL15J – jumbo size, mailed First-Class
HOL15P – panoramic size, mailed First-Class
HOL15JSC – jumbo size, mailed Standard-Class
HOL15PSC – panoramic size, mailed Standard-Class
HOL15SH – any size, shipped to you
HOL15M – any size, magnetic stock
HOL15PDF – any size, PDF Download
Need help?  We're here for you!  Call our team at 877.222.6010 today. We'll help get your holidays started and save you money at the same time! Have a great one!