The Marketing Funnel Can Help You Drive More Customers
It's no secret that small business owners are wearing many hats, and switching them out frequently: customer service, accounting, business development, marketing, even janitorial (hey, who else is going to sweep up that mess?) As a result, you can't be blamed for not being able to focus the same resources on marketing strategy as the big guys, like Target, Bank of America, and Home Depot. Heck, you may even only have 15 minutes each week to dedicate to it!
So how can you keep up?
We're here to help you "market like the big guys." We've lifted the best million dollar strategies out of the executive boardrooms and laid them out here in small-business terms so that you too can profit from them!
We'll start with how you can create your own marketing funnel.
Why is it called a funnel and why should you care?
The funnel is simply the shape of the diagram, and you should care because this is how Fortune 100 companies like Verizon drove $18B in sales last year. It's a tool for getting consumers to buy more and keep them coming back! And it's simple enough that you can create your own in the next five minutes.
A funnel is way to categorize all of your customers, and divides them into segments based on how much they know about you. At the top is everyone who hasn't yet heard of you, by far the biggest group. As they move down the funnel they become "aware" of you, have seen your logo, or simply recognize your name. But they aren't buyers quite yet.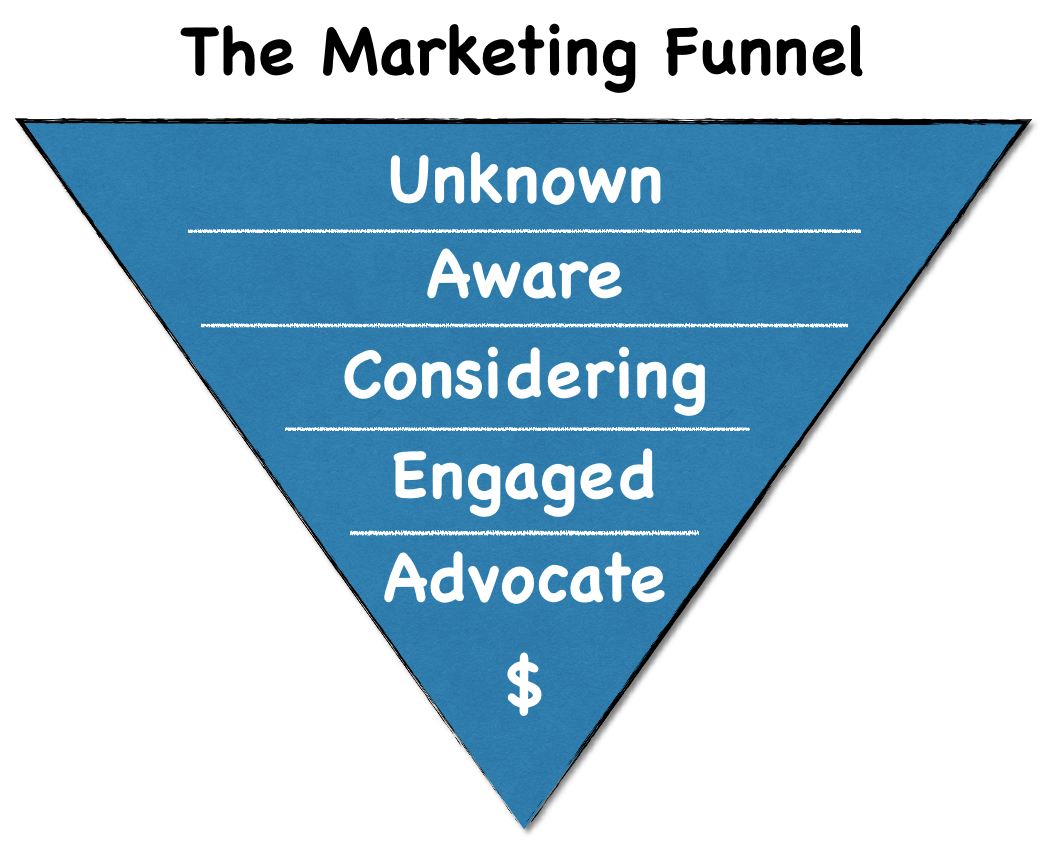 The third stage is "considering," and these people are either considering your business or have a problem that you can help them solve immediately: their bathtub leaks, their drain spouts are clogged, they're considering repainting the kid's bedroom, etc. These are people who can become customers right now.
The fourth stage is "engaged," and these people are already one-time customers. But don't celebrate yet, the job isn't done! A one-time customer who buys tree-trimming service for $150 might sound great, but how does that sound when compared to a customer who reached the "advocate stage," told their friends, and became the source of $1,500 in revenue? You want advocates! People so happy with your service that they can't help but brag to their friends about what a deal they got. These people multiply the revenue that they bring in, and they cost exactly the same to acquire. It should be your focus to turn all of your one-time customers into advocates!
Marketing funnel set? Now, let's turn it on
And there it is, that's the marketing funnel in a nutshell! Customers start at the top and go on a journey to the bottom. Now let's understand how you can use it.
Start to think about how your own customers move through these stages, and what marketing strategies you can use to help them along. How do people typically become aware of you? Mass marketing is a great start, and postcard marketing is a really intelligent way to address a large group of people in a personalized way. And don't forget, it takes many touches to get and keep someone's attention, so don't think it's a one-and-done type of affair.

Once people are aware of you, how do you get them to visit or call-in and buy? If you were the marketing person at Verizon, you might actually have enough manpower to call every person in your area (they in fact do). But you're a business owner with just 15 minutes each week, so you'll need a strategy and a partner. Here's where you can go to social media or send a mass email to your list. And once again, postcard marketing is great for taking people who already know you and offering them a discount or trigger-based offer (birthday, holidays, life events).
Every customer is a potential advocate
Once your customer is "engaged" in the store or on the phone, catch them by surprise with a random act of generosity! It doesn't even have to cost you money, sometimes the best ones are free. When my local barista remembered my name I went from referring to it as "the coffee shop" to "my coffee shop." I'm a lifetime advocate and it cost them nothing! Sometimes however, give-aways can work wonders too. A local pizzeria I knew used to empower delivery boys to give away a 2 liter coca cola. My friend was a recipient and bragged that he "had them throw in an extra coke" and you can bet your bottom dollar that he only allows his friends to order pizza from there. In the end, advocacy is about how you made them feel.
Now that you have your funnel written down, pin it to the wall and save it! You can refer back to it and if sales start to slump, you can pinpoint what part of your marketing funnel is "light" on prospective customers and see which campaigns to run to target them.
And there you have it! That's all you need to know for this week's installment of "marketing like the big guys." You learned to set up your own marketing funnel and came up with creative ways to move people through the stages from top to bottom in order to drive more business and keep customers coming back.
Remember, you're not alone in this one! If you're feeling inspired and are ready to get one of those campaigns out today, give us a jingle at 877-222-6010 and let's get those people in your funnel moving in the right direction.