The key difference between marketing and advertising
What's the difference between marketing and advertising? Quite simply, marketing is about compelling immediate action and advertising is about generating positive impressions. Marketing drives people to pick up the phone while advertising helps them remember jingles. Ads typically are best in glossy magazine pages and on billboards whereas marketing is most effective on postcards and in emails.
Both of them have their place, and as a small business owner looking to drive more sales, you should certainly be doing both.
But when should you be doing which?
When it comes to direct mail marketing, you actually don't have to choose. You can use Jumbo-sized mailings to obtain enough real estate to comfortably do both, and kill two birds with one stone. Make your mailings beautiful, memorable, and catchy, while simultaneously driving an immediate buying response. Here's an example of a postcard that does this well: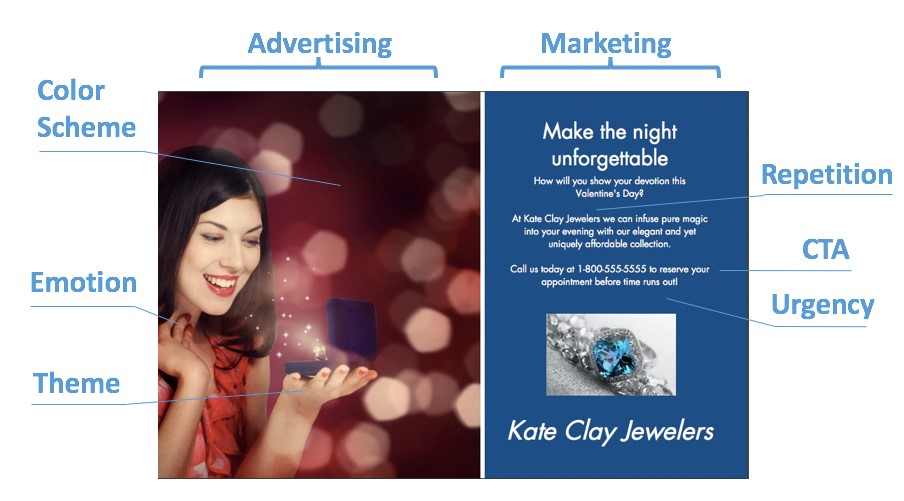 With this Jumbo postcard 3:2 ratio layout, we achieve a clear advertisement on the left side with a marketing message on the right.
For the ad portion, they used the company's color scheme, an emotionally evocative picture of a delighted customer, and the theme of unveiling beautiful, nearly magical jewelry. It exudes starry-eyed excitement and conveys the emotions that we want associated with the product.
On the marketing side, they get right to the point with a compelling message. They used a rhetorical question, "How will you show your devotion?" to engage their readers in active thinking, they repeated the company name more than once, and of course they made sure that the call to action (CTA) was abundantly clear and involved a sense of urgency. Will time really run out to schedule an appointment? Only you, the business owner, knows for sure, but that doubt inspires readers to immediate action.
Together they make an ideal one-two punch for your postcards! The ad is memorable and thematic and the marketing is compelling and actionable.
More reasons to love Jumbo postcards
Another benefit to Jumbo postcards is that their unusual size makes them additionally impactful: they're higher visibility, the pictures are larger, there's more room to work with, and they exude a novelty factor that increases the time that recipients spend with them by 15-20%.
Plus, you don't need anything to get started with our free templates and carefully selected stock photos!
Ready to create your own?
Here's our 30-second guide on things you can include:
Limit the total amount of text to 75 words or less
Beautiful or striking advertising image
A color scheme consistent with your brand
A theme that ties it all together
A tagline, like "Make the night unforgettable"
A rhetorical question to get people thinking
A clear CTA with a phone number
Urgency – tell them why the offer won't last
Your business name and or logo
Hop into our web-to-print platform or call 1 (877) 222-6010 and get yours rolling off the presses today!
Need a little help from the experts?
Opportunity Knocks is only a click or a quick phone call away at 1 (866) 319-7109! They specialize in bespoke marketing and advertising campaigns that are guaranteed to help you land new customers.