What's the deal with social media anyhow?
Social media: just a passing fad? Hardly! While that question is still around, many businesses who have ignored social media are not. It's high time that you create a strong presence and leverage it elsewhere in your marketing!
Any good marketing strategy of course should look something like trident: one central message, but several different approaches or "channels." This might be direct mail, blog, email, and social media.
How does the trident approach change everything? 
Its because you probably think social media means more work for you. But the same messages that you already use elsewhere are perfectly valid on social media! You don't have to reinvent the wheel or enlist the help of a millennial (although it never hurts!). Savvy marketers on a shoestring budget make it simple by chopping up existing ads into bite-sized morsels for social media consumption. Here's a quick example:
For example, here's a full advertisement for Chip's Landscaping Service:
Are you settling for brown patches in your lawn? You don't have to live this way! Turn your yard from an embarrassment into the lush and thriving envy of the neighborhood! Chip's landscaping has been in the business for more than 20 years and has expertise in residential, commercial, and is ready for all seasons! 
His Facebook post: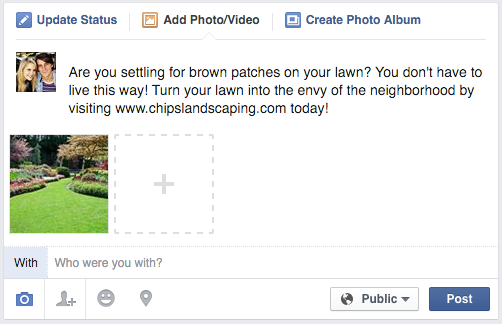 His Twitter message: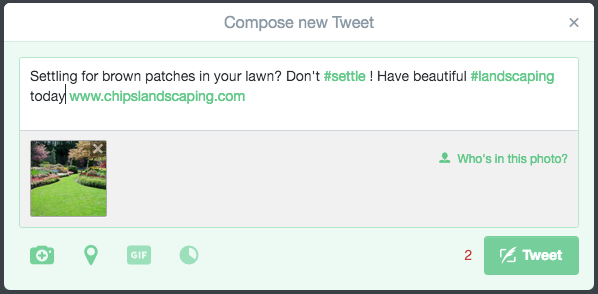 His Instagram post: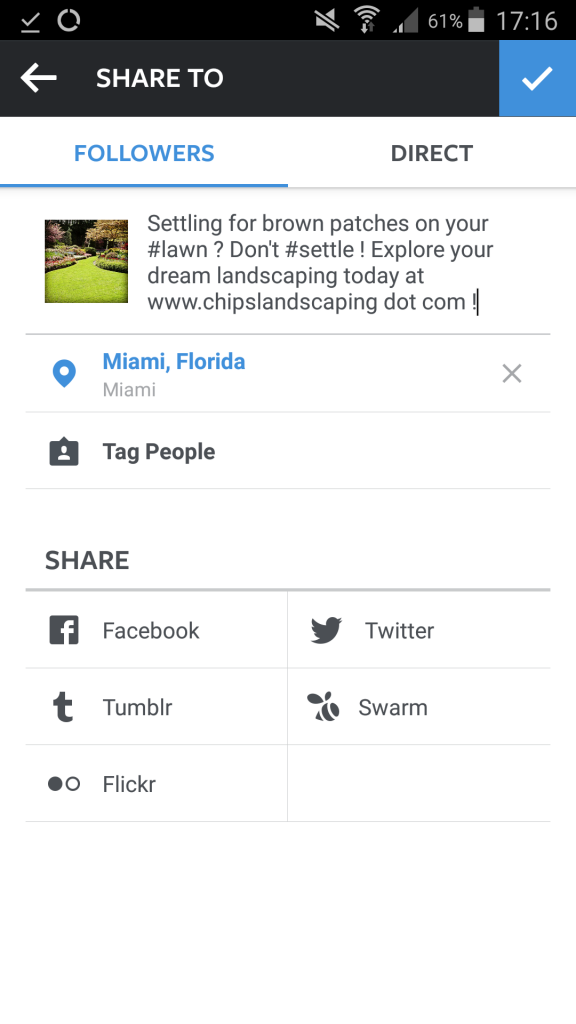 Congratulations, you're already a social media whiz and you didn't even know it!
The next step, and this is where you'll really start seeing an ROI, is to use social media to enhance the postcard marketing campaigns you're already running.
One message, many outlets: Here are the top 3 use-cases to get started: 
Use your Social Media profile as a landing page for postcard campaigns: You can support the postcard campaigns you're already running by hiding additional information on the social media site, like the discount offer code. It forces them to interact, visit, and get addicted to your brand! Just place the social media logos and your URL (or handle, for Instagram and Twitter) and direct them from the offline world to the online one.
From here, another hidden benefit emerges. While you can track when your postcards are delivered, you can now also track when those people visit your digital profile or website. It gives you another layer of verification to measure campaign success so you can make better decisions with each campaign.
Use postcards to drive social followers: once you have people on your social media site, you need to hook them for the long term. Encourage them to like, share, follow, or interact with your content to develop the relationship further. It solidifies their impression of you, and every minute they spend on there is a minute of free advertising.
As you collect a sizable number of followers you can reach out to them with more offers! A few of our customers have gotten really creative and doubled the effectiveness of their postcard campaigns by warning people that they're coming with a social media blast!
Use Social Media to collect marketing information. In today's digital-first world consumers are far more comfortable than you might think about sharing their information online. By "gating" content on your website or social profile and using a form to ask for their contact information, you can gather valuable marketing data.
Gathering email addresses this way is a great start but if you go a step further and ask for their physical address, you can start spotting trends in where your customers are concentrated and target them with personalized postcard campaigns!
Not too difficult, right? We sure don't think so, and we'll worth the commitment of building the profiles. By chopping up ads that you already run and employing the trident strategy you can enhance your postcard campaigns with social media.
Don't waste any time: you now have the tools, try it out and start your next postcard campaign powered by social media! Call 877-222-6010 today to get it going!